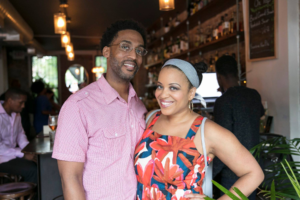 Amber and Rusdyn Lindsey
We are writing to express our gratitude for Robyn Dean-Grant. She served as the "Day - Of" planner for our wedding on Saturday, December 12th, 2015 at Greenpoint Loft in Brooklyn, NY.
The wedding ran extremely smooth. At our wedding, we had a total of 7 vendors which comprised of 50 people, over 200 guests, 15 Bridesmaids/Groomsmen, and our parents that were all involved on our special day. Although we had the vendors in place, Robyn pulled those vendors together a week prior to our special day. To use an analogy about Robyn's work ethic, we provided her with the ingredients and she gave us a 5-star experience. All of our guests where extremely grateful and had a wonderful time at our wedding.
Mrs. Dean-Grant has superior coordinating skills. Robyn is based in Austin, TX and was able to establish herself as the event lead even though the DJ was based in Cincinnati, OH, the photographer was based in Atlanta, GA, and the caterer was based in New York, NY. Additionally, we hired six local New York City college students to help host and assist Robyn. Using various forms of modern technology, Robyn quickly established expectations and defined roles. The students worked well under her guidance and they raved about her leadership after the event.
As "Day – Of" planner, Robyn displayed great management skills. She strategically prioritized what was important to us and navigated last minutes issues with grace. Robyn's attention to detail is something that we have never seen before in previous weddings that we've attended. Robyn's eye for creativity and generous spirit while planning and executing the day put our minds at ease. Mrs. Dean-Grant is a tried-and-true professional who made everyone, including our guests, feel valued and included in our special day.
Without reservation, we highly recommend Robyn Dean-Grant of Purposely Inspired Creations for your next event.
Amber & Rusdyn Lindsey
---